Make it a family ritual or a special occasion to escape to Robert's Buffet. Visit multiple food stations to satisfy your party's dietary needs (and every possible want) with quality food that is prepared in-house by Chef D'Cuisine, Carina, and her team! Crowd favorites include our prime rib, omelet bar and house-made gelato in 12 rotating flavors.
Our wait staff is delighted to serve your favorite beverage and assist with any other needs and requests. Along with their cheerfulness, and open space and bright, modern colors and decor set the mood for a breakfast, lunch or dinner you won't soon regret or forget!
Contact Group Sales for large party reservations.
Rhythm City Casino Resort® is proud to offer active military members a discount of $1.99 off regular buffet price with active military ID.
We kindly ask for your patience as we are experiencing nationwide supply chain constraints that impact quality, price and availability. This may unexpectedly change our daily menu selection. We strive to serve only the best products to our customers and apologize if we do not have your favorite dish during your visit. We appreciate your understanding.
Specials
Meet the Chef:
Carina Fleetwood, Chef D'Cuisine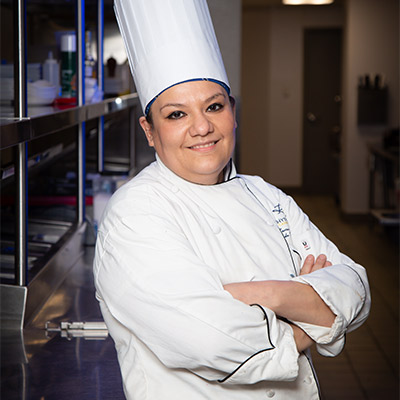 Robert's Buffet inherited a burst of wholesome goodness when Quad Cities native Carina Fleetwood joined as the Chef D'Cuisine in 2016. Having learned how to cook authentic Mexican and Italian food from her mother, who worked at a restaurant when she was growing up, Carina fell in love with the kitchen very young. At 13, she got her work permit and she's been doing her dream work ever since!
Having been taught by some of the top chefs from around the world, she now enjoys bringing her own flair to the (dining) table and opening guests' palates up to new foods. Her Latin heritage means she's very comfortable both in the kitchen and on the dining floor, building relationships with Robert's guests. For Carina, cooking is more than just a meal; her craft is her pride and her guests become family.
Chef Carina also doubles as Rhythm City's Banquets Chef D'Cuisine. Treat your guests to her masterful creations for your next special event or corporate outing. Contact Group Sales for more information.