Sit in plush, cozy chairs and enjoy lavish views from any spot in the house at Ruthie's Steak & Seafood. Located on the top floor of our property, you'll experience Iowa from an entirely new perspective through our wall of windows while fine dining with friends, colleagues, spouses and family!
We're known for our steak selection but don't underestimate our duck, lamb and lobster mac entrées! Our wine selection is among the best in the Quad Cities and details such as house-made butters, sangria and caramel sauce plus our French pressed coffee set off an amazing dining experience. Find gluten- and nut-free selections throughout the menu and plenty of suggestions from our wait staff when it's just too tough to choose. Fresh flowers on each table add to the amazing high-rise view, which is most spectacular at sunset.
Service that you'd expect from a five-star restaurant and the ambiance of a Chicago steakhouse contribute to your dining experience.
Host your shower, rehearsal dinner, private dinner or other event at Ruthie's by contacting Group Sales. Book your grand master and concierge suites on the 6th floor, nearest Ruthie's.
Meet the Chef:
Peter Sedlak, Chef D'Cuisine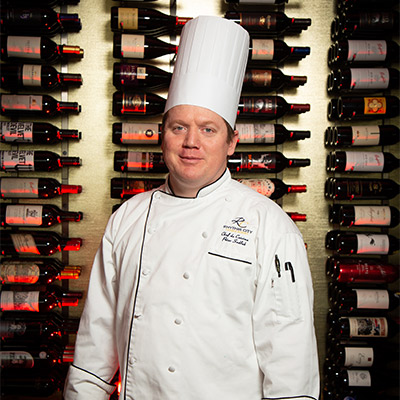 Cooking with Mom led to a love for creating exquisite fare for Ruthie's chef d'cuisine, Peter Sedlak. A Quad Cities native, Peter started helping his mom in the kitchen as a young child and his desire to cook blossomed from there. Twenty-seven years later, he has a knack for creative meals that belong on the cover of Food Magazine. He believes we eat with our eyes as much as our taste buds, so, in addition to amazing flavor, Ruthie's guests can expect visual appeal on every plate and something for every palate. A fan of buying quality, local ingredients, Peter's goal is to serve high quality, adventurous meals, one course at a time!
Fun Facts:
Cooking inspiration: Mom
Favorite cuisine: Vietnamese
Least favorite food: Ketchup
Years cooking: 27
Previous experience: The Outing Club, Biaggi's, Savitris (now The Phoenix)